More Testimonials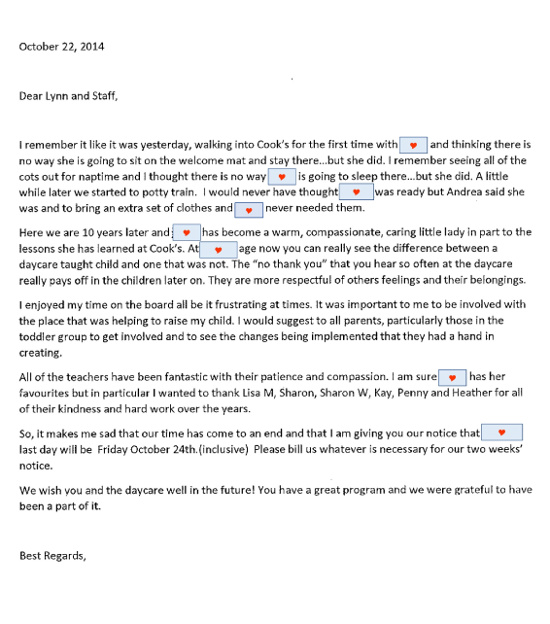 In the Eyes of Our Kids!
When random children were asked what was enjoyed during our Summer Adventure Program, we were told:
"I like reading."
Marley, Age 7
"There are lots of good books and the Teachers are nice."
Nicholas, Age 8
"I like that I can play with a lot of my friends at the same time."
Michael, Age 7
"I like that we go a lot of different places in the summer."
Ben, Age 9

From the Point of View of Adults

The following are direct quotes taken from our recent satisfaction survey responses submitted by parents, guardians & family members using our service.
The educators/teachers/providers are viewed as professionals because...
Because they went to school for it.
The commitment that is displayed every day.
Because they do such important work with our precious children. It is hard, exhausting (& probably sometimes frustrating) work, yet everyday I see professional, happy & respectful people accepting my son with open arms!
Very professional, mature & dedicated.
I always find the staff helpful, kind and really in touch with my kids needs/problems.
Cook's has also provided a warm and inviting environment while at all times displaying a professional manner with all educators.
They are always interacting with children in some way.
They don't put the children at the Day Care at risk. Definitely put the children first in any decision.
Even though the work is seen as child's play, my daughter's day is well planned, thought out and treated with the importance that a child's growth and development deserves & requires. If I have any questions the care providers always respond professionally & promptly.
Everyone displays a positive model for children and parents/caregivers. I have never seen any behaviour from any of the staff that was less than professional.
They have impacted on the kids behaviours also their lives.
They are positive role models and help with the up bringing of the children and families of the organization.
Always focused on their job they love.
They show that they are professionals through conduct, communication, knowledge, and dress, very approachable and easy to communicate with.
They have always been professional; and supportive to myself and my child. I appreciate the service they provide to my family.
They are trained/certified.
Other Comments:
I just want to thank the staff for being a Great Part of my daughter's everyday life and making sure she is safe and well taken care of. I know that you are meeting her needs, and I have noticed that she is gaining useful skills.
We are very pleased with the level of care and stimulation our child is provided. Our child looks forward to attending Victoria Day Care.
I (we) have been very happy with Cook's facilities & care for our son. The administration has been professional & efficient and the caregivers are hard working, professional, attentive & loving - the most important to me :) I think they also do a good job managing kids & parents during busy drop-off & pick-up times when there is something to discuss with the parent, but also having to be in charge of the kids. Also, I appreciate how Cook's picked up our older child at school & gave him care while I volunteered @ bingo even though he doesn't go to Cook's normally. (All forms were completed for him of course). I feel like Cook's is like a family business but with all the benefits of a large corporation behind it. Perfect combination!
I have no suggestions. Our child is very happy. The staff are excellent and very kind to all the kids. This is the best move we could have made! Thanks
We are currently in our 4th week attending day care and the teachers have been very helpful with the transition. Our son is very happy and adjusting quite well to his new situation. All of the teachers have been very patient with the morning drop off (crying) and they have been very positive every step of the way. Thank-you.
I am very happy with the care the children receive from Cook's. This has been an exciting and educational experience for them. I believe that Cook's help build a solid foundation to build on their education and relationships with other children. Thank you for taking such great care of my children. I never have to worry about them when at work.
Staff has been accommodating in family changes; ease for child, communication on development/behaviour is great and very helpful. Always caring and show concern. Questions always answered. Day trips are great!
Cook's, I believe has contributed to a very healthy start for our children both educational and social. I truly feel that Cook's is a superior learning facility and has played a big part in our children's development and at the same time has provided a loving environment for children and parents. I (we, my husband and I) can say that enrolling our children with Cook's School was truly one of the best decisions ever made for our children's future. I would also like to add that the educators are a group of hard working loving women and I have always felt confident leaving the most important part of my life in their hands. Thank you for what you do,
We feel very lucky to have our sons at Cook's. Their transition from a home based childcare setting was seamless & extremely positive. We had concerns re: our 15 mth old meeting the expectations of centre care vs. home care (bottles, soothers, blanket etc.) but it has gone so well. He is thriving! Our older son (5) has come out of his "shell" & enjoys his time there! Thank you so much for all your hard work; it is making a huge difference to parents who must leave their children. Your contribution to their little lives does not go unnoticed.
My child and my family are extremely happy with the quality of service. We would not choose anywhere else and highly recommend Cook's. The staff are excellent and the location is ideal.
I am very appreciative of all the time and effort the staff puts into their day. They truly take great pride in their jobs and enjoy spending their time with the kids. It makes it a lot easier to leave my children when I know they are spending time with such great people.
We love Cook's! We have never felt nervous or unsure leaving our son in their care - trust their judgement 100%. Amazing group of ladies there - our son enjoys spending time with them. He is constantly learning new things at Daycare & great social opportunity.
Cook's has been great, very accommodating, friendly and professional. Unfortunately I do not have any suggestions. Maybe little report cards indicating how children are doing in certain areas of the day. i.e., social functioning, eating, cognitive play, imaginative play, naps, following simple directions, potty training... Just an idea because I'd love to know how my child is progressing and time is not always on my side. I understand that this also takes time on provider's part so its just an idea that I'd like!! GREAT staff, my daughter loves going! Thanks!
More notice for fundraising bingo please! I cannot volunteer on a last minute notice. The front walkway in winter needs more attention especially during heavy snowfalls (snow storm day - snow was to my knees entering the building, kids almost couldn't even walk through). We love the centre very much and all of the staff are wonderful!
Overall - excellent school/teachers and the people involved.
We have had a very wonderful 5 years here at Cook's.
My girls always enjoy going to Day Care, They always come home happy and excited. The ECE staff is always happy and inviting.
I am so happy we decided to send our child to Cook's on D'Arcy. Every single one of the staff is super nice and easy to talk to. My child is excelling and I would not do it any other way! Keep up the great work!
"As an only child, my child did not receive as much socializing from 0-2 as other children with siblings. Since being at Cook's, he has blossomed into a very social and curious child. Cook's welcomed us in every way and was very supportive for my child in his adjustment period. He is one of the better "readers" in his JK class. I feel the attitudes toward literacy and reading he sees at home are demonstrated in the Cook's Program. He has bonded with and trusts his teachers in the Program, whom he mentions often and are now an important aspect of his life. Yeah, Cook's!"
"Everyone associated with Cook's are wonderful influences for the children. They are caring and are able to help the kids learn by making learning fun. Thank-you!"
" You're the best! Thank-you."
"I wanted to commend the Staff for the 2wk hand/sign language program. Emily really enjoyed it!"
"We really appreciate the warm, friendly staff and the variety of crafts and activities."
"Very appreciative for your support while dealing with change (work). Thank you for being so flexible while I am in search of work. Keep up the great work!"
"I could not be happier with another child care centre. I really appreciate the flexibility with days of care and the warm inviting atmosphere that you provide to the parents and children. Kudos to you all for all of your efforts. They do not go unnoticed."
"We're very grateful for the high-level of care shown to Hunter, and the ongoing compassion and support."
"Although my child is fairly new to the day care, I am very satisfied with the care and attention he receives. My child is always in great spirit when my husband and/or I come o pick him up, which demonstrates the outstanding efforts of every staff member."
"At first I suffered from separation anxiety (of course!), although "the girls" were very understanding and compassionate; even every time I called to check in."
"After a very short while, I was positive that I had made the right choice with Cook's. Your staff makes all the difference!"
"I am really happy to have found a daycare as Cook's is; the staff is so wonderful and supportive with the children. My girls feel very happy and comfortable here and I never feel bad leaving them behind. Thank you very much, great work!"
"During these tough economic times your services, programs, and food, etc have been nothing but top notch. Thank you for all you do. (Teachers, assistants, staff, cooks, planners, admin, etc.)"
"I give the teachers credit in dealing with the different schedules of school aged children. Parents have a hard enough time but the teachers make it easier as they are organized and aware of individualized schedules."
"Awesome Work Ladies!"
"The service you provide by walking my child to and from school is greatly appreciated. Without this added extra we would not be able to stay with Cook's day care. There are many other reasons we stay but walking my child to and from school is a great benefit to our family."
"Every effort is made to communicate with parents. Staff are always supportive of student activities and interests."
"Great Job … as always!"
"All caregivers are caring and patient."
"Thank you for giving us a great experience and allowing the kids to grow and learn."
"The teachers/staff are excellent. They have helped my child adjust to school / daycare perfectly. She couldn't be at a better place."
"We feel very fortunate to have our children cared for here. It is an excellent facility with top-notch Programs and staff. Thank-you!"
"We love coming and love our extended family! The support given to all of my family has helped with raising my children, which is very much appreciated!"
"Quite satisfied with all the services provided by the workers and/or staff @ Cook's."