Victoria Park Child Care Centre
The Victoria Park Child Care Centre boasts four spacious and sunny activity rooms furnished to meet the needs of children 12 months to 13 years.
In a nurturing, loving environment, we support your child's development of confidence, self-regulation, expression and curiosity through responsive and respectful interactions, learning centres, creativity, exploration, music and play.
We encourage your child to observe, question and discover. We guide and inspire your child to develop an awareness of their own and the feelings of others. Your child learns that they are free to make safe and respectful choices. Flexible programming like ours prepares your child to utilize their intellectual and creative abilities in future learning tasks.
Each activity room is filled with activity centres geared to the interests of the children (books, drama, science, music, etc.). Our goal is to encourage your child to learn through play, explore, and be adventurous, curious and creative.
We take pride in knowing that the early childhood educators and support staff are knowledgeable, qualified and caring. Our employees are dedicated to this profession and continue to grow and evolve to meet the ever-changing needs of the families we serve.
Program Goals
Encourage social skills (mutual respect, sharing & turn-taking, manners)
Promote self-help skills (sitting and using spoon and cup at the table: putting on and taking off shoes)
Encourage healthy habits (washing hands)
Positive self-awareness
Independence and self-regulation
Fine motor skills (tidying toys, puzzles, holding utensils, colouring with crayons)
Gross motor skills (climbing, kicking, throwing)
Recognizing colours/basic objects
Stimulating speech by repeating and modeling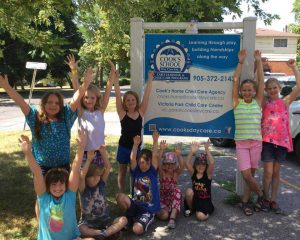 Location Features & Hours
Open Monday – Friday, 6:00am – 6:00pm
Air-conditioned, bright activity rooms
Large, fenced outdoor activity areas
Just 2 blocks from beautiful Victoria Park on Lake Ontario
Close proximity to the heart of downtown Cobourg
Minutes from the 401, train station, and library
Victoria Park Child Care Centre's has the ability to arrange for our staff to pick-up and drop-off children at C.R. Gummow Public School and to escort children to and from the St. Michael's Separate School bus that stops at our driveway.
Indoor Activity Areas
Our indoor activity areas are on the first and second floors of our centre.
A large partition wall separates our toddler and preschool activity areas on the first floor. The space is bright and cheery. The environment is busy and exciting. Washroom/toileting areas are readily available to allow the transition to toilet-training to be easier.
Toys and learning tools available are geared to the interests of the children.
Outdoor Activity Areas
Our outdoor activity areas are fenced for safety and security reasons.
The junior space is equipped with a fun Tykes treehouse with a massive sandbox surrounding it, a paving stone path for endless play on riding toys (trikes, cars, wagons, etc.) a climbing structure with slide that is secured to a rubber protective surface, and many outdoor toys and materials to manipulate and enjoy.
The senior space contains an incredible climbing structure, a sandbox, a paved path around the outside of the activity area for riding equipment, having an exciting soccer or ministick hockey game, and much more!
During inclement weather, activities may be brought indoors to encourage imagination.
Our outdoor play spaces are inspected daily, monthly and seasonally by our program staff and annually by a certified playground inspector.
Age Groupings
Room
Ages
Educator:Child ratio
Max # children
Proportion that must be qualified employees
1st Floor
Toddler
12 – 30 months
1:5
15 (3 may be 12 – 18 months)
1/3
Preschool
30 months – 6 years
1:8
24 (5 may be 18 – 30 months 

or

44 months – 7 years)
2/3
2nd Floor
Room 1: 2 options
Preschool
30 months – 6 years
1:8
24 (5 may be 18 – 30 months

or

44 months – 7 years)
2/3
Kindergarten
44 – 7 years
1:13
26 (5 may be 30 months – 6 years)
1/2
Room 2: 2 options
School-age
68 months – 13 years
1:15
15 (3 may be 44 months – 7 years)
1
Preschool
30 months – 6 years
1:8
14 (3 may be 18 – 30 months

or

44 months – 7 years)
1/2